Why Does It Hurt My Knee When I Go Up And Down Stairs?
Sandgate PhysioWorks
Article by Zoe Russell
Why Does It Hurt My Knee When I Go Up And Down Stairs?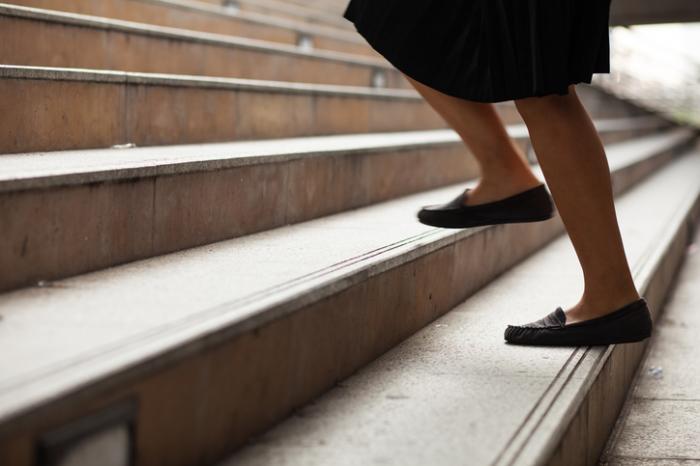 One of the most common conditions of the knee that physiotherapists see is people who report that their knee hurts when they go up and down stairs! This everyday activity is responsible for many people experiencing knee symptoms.
The most common cause of knee pain when going up and down stairs is patellofemoral pain syndrome (PFS or PFPS).
PFS is a condition characterized by pain and crepitus that is felt around the patella (the kneecap). It is often the result of increased pressure on the retropatellar (behind the kneecap) surface when the knee is bent and the Quadriceps (the thigh muscles) are contracted, which is the position of the knee when travelling up or down stairs, hills and inclines.
PFS is also referred to as Runner's Knee, and the onset of pain is gradual, rather than following a specific inciting event.
People With PFS Often Report:-
Pain behind kneecap
Knee stiffness associated with knee flexion in sitting (moviegoer's sign) or driving.
Activity-related knee pain

eg running, squatting, kneeling, cycling, stair-climbing (especially on descent)

Retropatellar tenderness on compression of kneecap
Crepitation or "grating" sensation
Giving-way
There are many and varied causes of PFS, your Physiotherapist is highly trained in looking at all the potential causes and tailoring your treatment regime to your specific concerns. These may include:
Tight or Weak Hip Musculature
Weak medial tracking forces (vastus medialis muscle) compared to lateral forces (vastus lateralis muscle, iliotibial band),
Foot positions and postures when traversing stairs, and in some cases;
Patellofemoral instability – either as a result of dislocation or recurrent subluxation.
Your PhysioWorks Physiotherapist, will assess and identify the specific causes related to your knee pain on stairs and offer you a treatment plan tailored to your goals. Life is too short to have knee pain when taking the stairs – seek the help from your PhysioWorks Physiotherapist today!
More information: Common Knee Injuries